Replacement board for Model A-14039 boards.
We have designed a replacement for those WPC DMD Controller Boards which are well known for burning PCB under the high voltage section. Our replacement board has a number of improvements to overcome these issues, including larger heatsinks which are spaced further apart, 10 Watt resistors instead of 5 Watt and they are spaced above the pcb with ceramic spacers to improve ventilation. All of the logic section has been remade using surface mount components.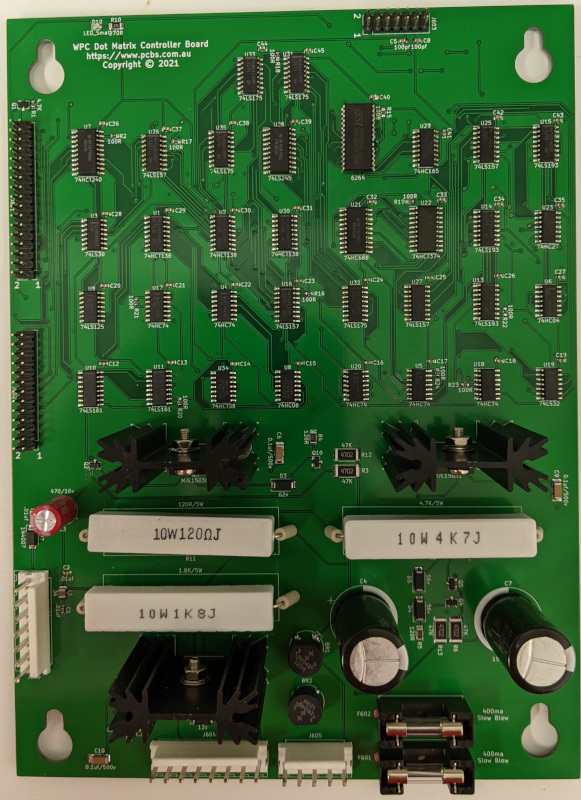 Suits the following titles.
Adams Family
Adams Family Gold
Black Rose
Corvette
Creature From the Black Lagoon
Demolition Man
Dirty Harry
Dr. Who
Dracula
Fish Tales
Flintstones
Funhouse
Gilligan's Island
Harley Davidson
Hurricane
Indiana Jones
Indianapolis 500
Jackbot (DMD Version Games Only)
Johnny Mnemonic
Judge Dredd
No Fear
Party Zone
Popeye
Road Show
Slugfest
Star Trek the Next Generation
Terminator 2
The Getaway
The Machine BOP
The Shadow
Theater of Magic
Twilight Zone
White Water
Who Dunnit
World Cup Soccer '94