14-Oct-2022: A new version of the adaptor is available through Highway Entertainment
Below are some images of the new version of the Sega to ATX psu adapter.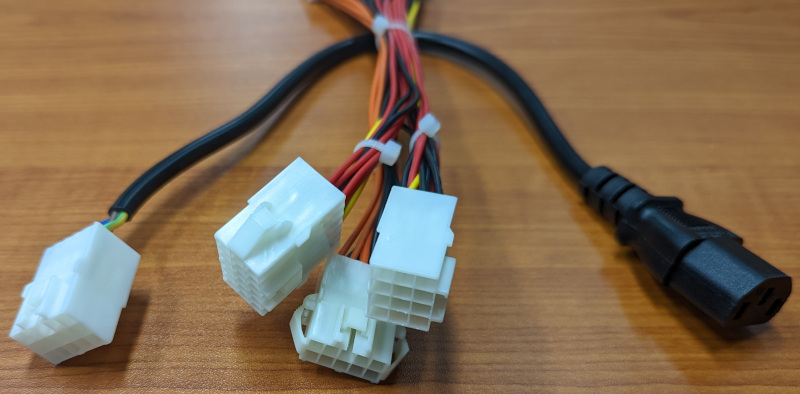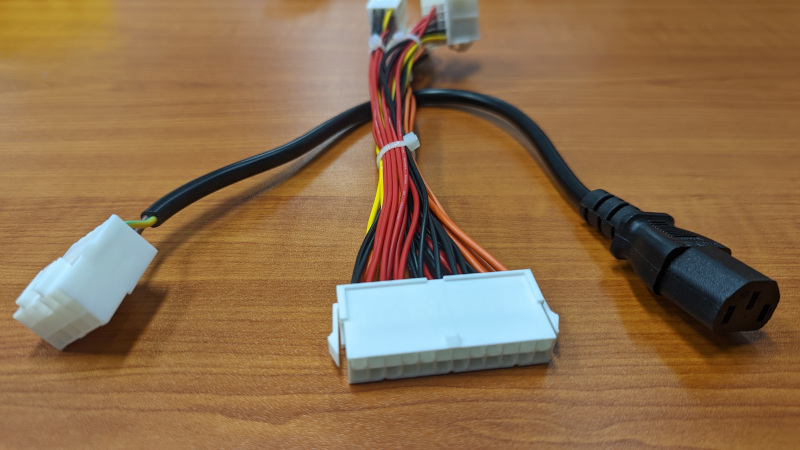 ---
Over the last few months I have been working on a adapter board to allow Sega power supplies such as the Model 1 and Model 3 PSU, be replaced with a generic ATX power supply without needing to modify the wiring loom. These power supplies, which are no longer available, used to cost over $400 USD from Sega.
This kit will include these two boards and a 30cm IEC C13 to C14 cable. It is expected that these will be available for sale around the beginning of August 2015.
These power supplies were used in games such as Virtua Racing, Star Wars Arcade, Virtua Fighter, Wing War, Sega VR-1, Dennoo Senki Net Merc, Virtua Fighter 2, Manx TT Superbikes, Sega Rally Championship, Sega Rally Pro Drivin', Sky Target, Virtua Cop 2, Dead or Alive, Dynamite Baseball, Dynamite Cop, Pilot Kids, Virtua Fighter 2.1, Motor Raid, Zero Gunner, Boat Race GP, Virtua Fighter 3, Virtua Fighter 3tb, Sega Bass Fishing/Get Bass, Scud Race, Le Mans 24, Scud Race Plus, Harley Davidson & L.A. Riders, Fighting Vipers 2, Sega Rally 2, Ski Champ, Daytona USA 2, Daytona USA 2: Power Edition, Dirt Devils, L.A. Machineguns, Spike Out, The Lost World: Jurassic Park, The Lost World: Jurassic Park Special, Virtua Striker 2, Virtua Striker 2 Version '98, Virtual-On Oratorio Tangram, Star Wars Trilogy Arcade, The Ocean Hunter, Emergency Call Ambulance, Magical Truck Adventure, Spikeout Final Edition etc etc...
After lots of effort things are finally coming together and the boards should be available sometime in the next couple of months.
Power supplies with a pin out like that in the below images can be replaced with an ATX power supply with this kit.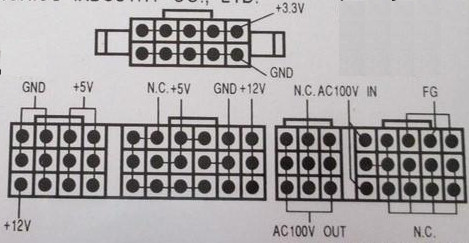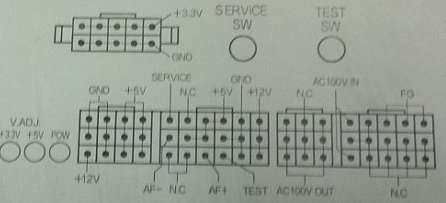 This version (below) has a -5v on CN2, but it is not connected on the wiring harness in the Sega machines.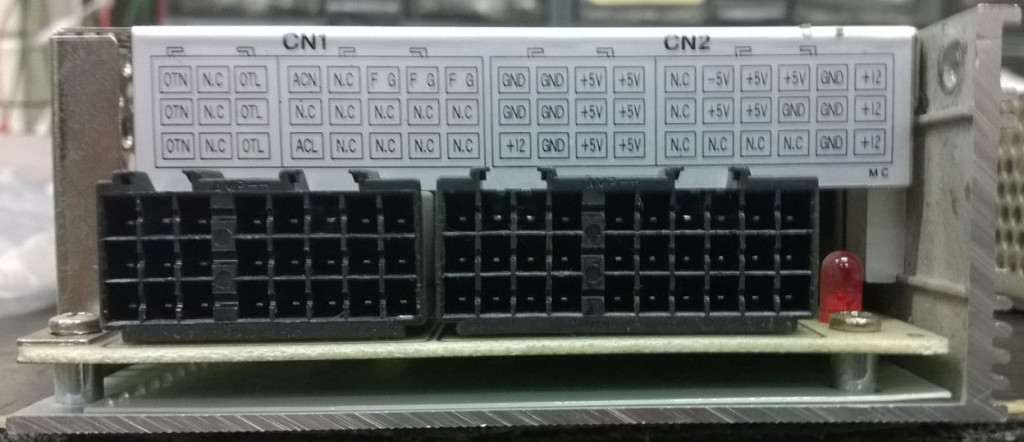 Further down this page you will find pictures of power supplies that are able to be replaced with this adapter kit.
DC Board
The DC Board has indicator led's for the presence of 3.3v, 5v and 12v.
I have added a connector labelled Astro to the board for the Service, Test, AF+ and AF- for Astro City.
Below is a picture of an early prototype on the right and the final finished board on the left.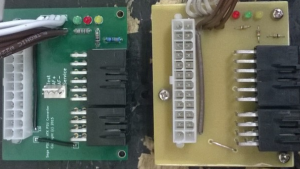 The kit will include 2 boards. One board will accept the existing 110V plug in, and will have an IEC female output to go to the ATX PSU. The second board will take the 20 or 24 pin ATX plug and present the same connectors as you get on the original power supply. There are quite a few power supplies that can be replaced with this kit.
Power supplies like those pictured below can be replaced.
Note: Some power supplies do not have a 3.3v connector. If that is the case then the connector is simply not used.
400-5330-03 PSU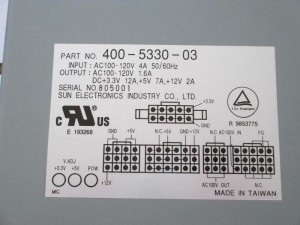 JQA Power Supply / 400-5330-02-91
Top View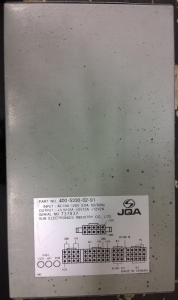 Front View
NVS-4000 PSU
This unit is common in Astro cabinets and has a couple of extra wires which we have also included on the replacement board.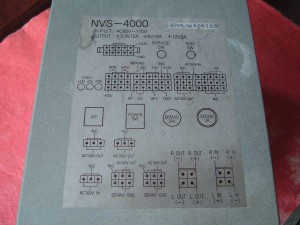 400-5264-91 PSU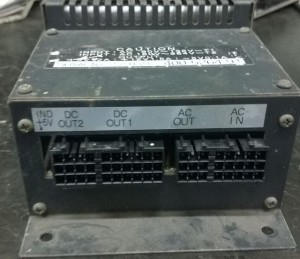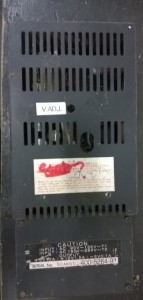 400-5306-01 PSU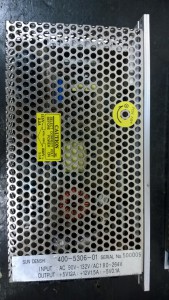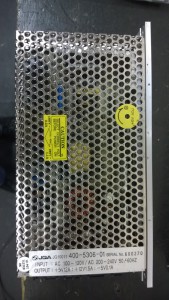 Update - 06-July-2015
The circuit boards arrived from the manufacturer, and they look fantastic. This board has been made with a thicker substrate than normal (2mm) and also has heavier 4oz copper to handle the high current required.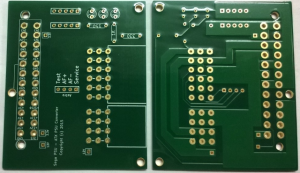 The board powered with a 20pin ATX psu. The board will work with 20 pin and 24 pin ATX Power supplies.
Green Led = 3.3v, Red Led = 5v and Yellow Led = 12v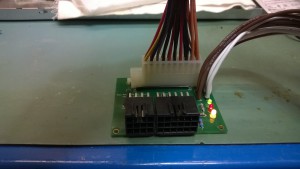 Top view of an almost finished board. Just missing the 4pin header in the middle of the board.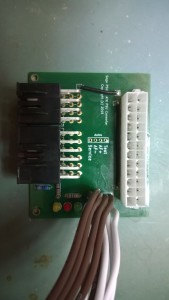 Bottom view of the almost finished board. Just missing the 4pin header in the middle of the board.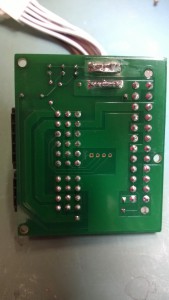 Update - 16-July-2015
The AC Board has arrived this morning.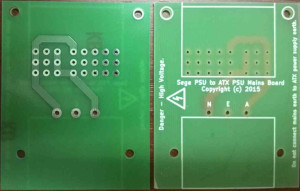 The assembled AC Board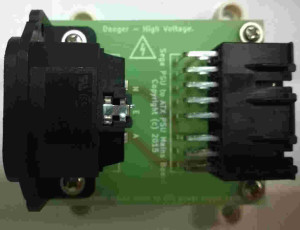 Both the boards together.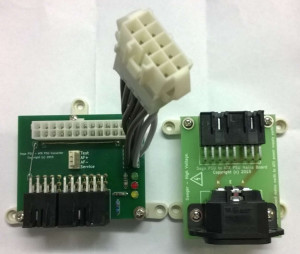 Update - 17-July-2015
The task of assembling the boards has begun.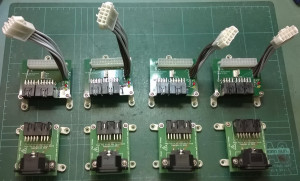 Update - 17-July-2015
The finished product. The AC board has some transparent heat shrink over it to provide a little bit of protection from it being put on top of a metal case, or someone touching it while its live.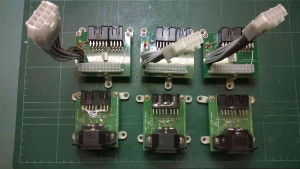 Below are some photo's from the an installation by Aaron in New Zealand who was kind enough to send these photo's back.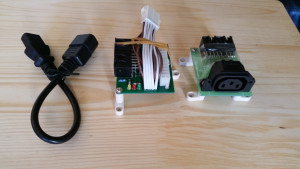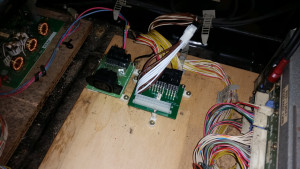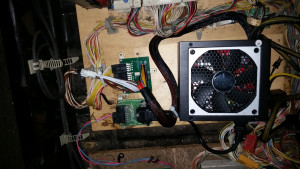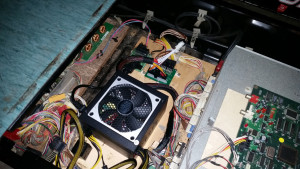 10539 Total Views
1 Views Today